coaches and other staff
meet the coaches
The people creating the next generation of cheerleaders
All of our coaches are fully qualified, individually insured, DBS checked and first aid trained to ensure the health and safety of your children.
Ben
Head Coach and Owner
Ben has been involved in the cheerleading industry since 2003 and has competed all over the world including Russia, Germany and USA.He has even been on ITV's 'Let's Get Gold' showcasing a Level 5 routine.
Ben is fully qualified in stunts and tumbles up to level 5.
After taking part in competitive cheerleading for over 10 years, winning many trophies and coaching for 11 years, Ben left to fulfil his dream of setting up his own team back in 2016.
Jade
Tanzanite Coach, Steel and Onyx Assistant Coach, In-House Choreographer
Jade has been a competitive cheerleader for over 13 years and has competed all over the Uk, as well as earning 1st place Grand Champions in America.
Jade has competed in routines and stunt groups from level 1 through to level 4. However, her individual skills include partner stunting and level 5 tumbling.
Not only is she an experienced, successful cheerleader, she is also a great choreographer and coach, passing on her skills and techniques to the next generation of cheerleaders.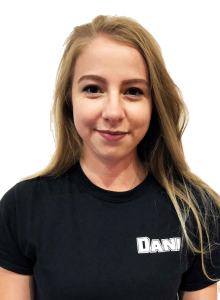 Dani
Diamond Coach and Head of Marketing
Dani has been cheerleading for over 10 years, previously coming from a competitive dance background. She has competed all over the UK in both routines and stunt groups from level 1 through to level 4.
As well as coaching our youngest team, Diamonds, she coordinates and runs all Smart Cheer marketing and events. This includes building and updating the website, creating campaigns on social media and organising fundraising events for the team.
Kayleigh
Diamond Assistant Coach
Kayleigh has been a cheerleader for over ten years, competing in her first competition at the age of 8. She is now in her second year at university as a student nurse. This will be Kayleigh's first season as an assistant coach and was picked for her natural, patient way with the younger cheerleaders. She takes her time to help our Diamonds learn new tumbles and improve on their current techniques.
Hannah
Recreational Class Assistant Junior Coach
Hannah has been with us for just over a year, with previous gymnastics experience. She is incredibly flexible and has an amazing passion for cheer. It's because of her desire to achieve, consistent commitment and want to improve that made her the perfect candidate for our Assistant Junior Coach role. You will always see a smile on her face!
Niki
Head of Admin and Uniform
Niki is Smart Cheer's very own mum (also Ben's actual mum). Niki runs her own childminding business so is extremely experienced in caring for children. Niki looks after all the accounts for Smart Cheer. However, her talents do not stop there.
Niki also looks after all the uniforms, measuring each cheerleader, ordering the uniforms and washing each of them by hand after every competition.
Train.Believe.Compete
Become Part of The Family
Regis Gymnastics
Unit 16a Castlegrove Business Park, Durban Road, Bognor Regis, PO21 9QT
Oving Jubilee Halll
High Street, Oving, Chichester, PO20 2DQ